Fish & Chip Catering Quote
Affordable Healthy Event Catering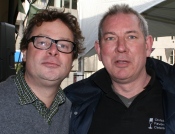 River Cottage TV Celebrity Hugh Fearnley Whittingstall and Peter Stuart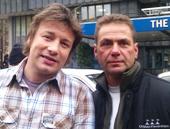 Jamie Oliver TV Celebrity chef taking time out with Darren our Commis Chef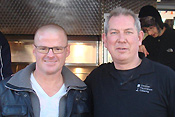 Heston Blumenthal and Peter Stuart in the Fish & Chip Tram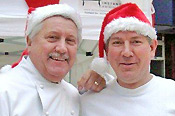 BBC Ready Steady Cook TV Celebrity Chef Brian Turner working with head chef Peter Stuart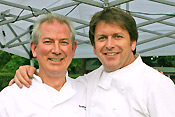 BBC Saturday Morning Kitchen TV Celebrity Chef James Martin working with head chef Peter Stuart
To receive an Instant Online Quote for your event enter below the total number of guests we will be serving (min of 80), the number of servings for each menu item, and finally your contact information. Your guests will be disappointed if you don't order chip shop extras such as mushy peas, pickled onions, curry sauce, and a selection of sides and extras listed below.
The Online Quote will give you your total - a copy of your online quote will also be emailed to you. If you have any questions about your fish and chip quote or would like to place an order please use the contact page or call the telephone number found at the foot of your online quote.
We will respect your privacy and your email will not be passed to spammers.